So excited for my long-time client's book release this month!  Signed copies of Kechely's latest novel are now available at Country Bookshelf and Montana Gift Corral.  Stay tuned for more info about local and regional author events.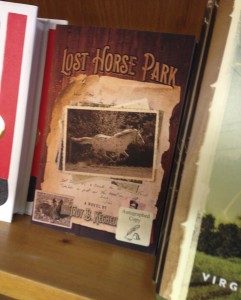 Bozeman author Troy Kechely has announced the release of his second novel Lost Horse Park. Set in Helena, Montana during the Vietnam era, the story follows Jim Redmond, a troubled teen who is caught breaking into and vandalizing his high school. Jim is given two options: back-breaking trail construction in the Gates of the Mountains wilderness or a stint at the infamous Pine Hills Detention Center. That choice was easy, but tensions in the trail crew result in the interracially adopted boy getting thrown into an unlikely partnership with Tom, a veteran of an elite World War II Army unit, who has plenty of his own ghosts.
The coming-of-age tale unfolds in a rugged landscape that stands outside of time. The land doesn't let the two men escape from their problems. Both must confront their personal flaws in merciless terrain where arrogance can have deadly consequences. For Jim, trying to earn Tom's trust will change his life and sense of identity forever.
If you  enjoyed Stranger's Dance, Kechely's new novel looks at the next generation of the Redmond family, though the new book stands alone in its plot and character relationships.  Lost Horse Park may be ordered at any bookstore, through Amazon (paperback or Kindle version), or at Kechely's website www.TroyKechely.com.
Signed copies are available at Country Bookshelf and Montana Gift Corral in Bozeman, Montana.