Brigitte Yearman is not Jewish. Her World War II survival story is from a rarely heard perspective: a child of the regime. From ages 5 to 11, Brigitte was part of the wartime child transports, survived as a North German refugee, escaped Russian soldiers, scavenged bombed out towns for food, and lost many loved ones along the way. Surviving the reconstruction years as a teenager was no easier.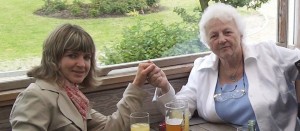 Fast forward 70 years. Brigitte has raised her family in the U.S., and she moved to Montana to be closer to an adult daughter. She was finally at a stage in life where she felt ready to share her story. Her pastor's wife, Mary Wagner (Pilgrim Congregational in Bozeman), connected her with a local ghostwriter, Anika Hanisch. There was only one complication: the ghostwriter was Jewish. What would her community think of this project? Could she make room in her own heart for working closely with the child of a Nazi soldier?
It wasn't easy. The book-writing journey became an experiment in ongoing peace-making dialogue between the two women. They both learned a lot about cultural and familial trauma, and healing, in the process. After six years of interviewing, writing, revising, traveling to Germany to fact-check, and incorporating beta reader feedback, the book is slated for release in late April.
One year of literary agent representation yielded repeated publisher feedback: the story is beautifully crafted, but war stories by women are too hard to market. This feedback came despite early focus group research that indicated otherwise. Brigitte, now in her eighties, has opted to self-publish and get word out through social media. Her Kickstarter campaign ends March 7th. The grassroots crowdfunding will help ensure this timeless and harrowing refugee story is available to a wide readership, as well as the German American Societies and academic programs that need it.
Book Trailer and Project Description:  https://www.kickstarter.com/projects/1662266001/dont-say-anything-to-anybody-a-german-wwii-girlhoo
More About Brigitte:
www.BrigitteYearman.com