By now I bet a few of our core fans have finished reading Don't Say Anything to Anybody. If you have, you've got incredible power to grow Brigitte Yearman's readership. Just write a 3- sentence review on our Amazon page. Right now some regional book buyers are contemplating carrying Don't Say Anything to Anybody, and they'll peek at those reviews to inform their decision.
1. Visit the DSATA Amazon listing.
2. Login and write your review.
3. For extra punch, first order an extra copy for a friend, THEN write your review after the book has shipped (when you purchase a copy, you can review it as a Verified Purchaser).  This is important for anyone who received the book as a Kickstarter Reward or bought it face-to-face locally.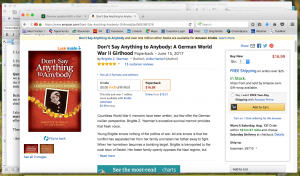 Quick Tip: We don't want all 5-star reviews. If you're a fan who can honestly only give us a 3 or 4, we actually really WANT your review on our Amazon listing. It lends our entire review list more credibility. An All-5 review list means one thing: Only the author's loved ones reviewed the book. Please sign in and state your honest feedback.
Believe it or not, self-publishing is not glamorous. DSATA continues to be a labor of love that costs Brigitte and Anika weekly in both promo expenses and free labor.  But despite all the self-publishing industry odds, we believe DSATA needs to get out to a wider readership. Much wider. This story is important. Let's start saying a LOT about "Don't Say Anything." Your Amazon reviews are where that word-of-mouth effort begins.
Thanks so much to all of you for going the extra mile!